Holi celebration with volunteers and staffs
Published on:
Holi, the colourful festival was celebrated on March 20 at VIN premises with 25 volunteers, staffs and 3 EU Aid partners from partner organizations: Mondo and Adice. Holi is famous in South Asia among Nepali and non- Nepali. Holi is the festival inviting spring and people celebrate it with colours and water. Holi has its own historical background and is very important from the Hindu religious and cultural perspective.  It is celebrated to signify the victory of good over evil.
According to Hindu mythology, Lord Vishnu saved his devotee, prince Prahlada by killing arrogant and evil King Hiranyakashapu (father of Prince Prahlada) and his sister Holika. People celebrated this victory by sprinkling colourful water on prince Prahlada and expressed the praise of goodness and hatred of evil. Thereafter, the tradition continued till this date. People forget hatred and share love friendship on this day. That is the reason it is celebrated with both known and unknown people, closed and dear ones.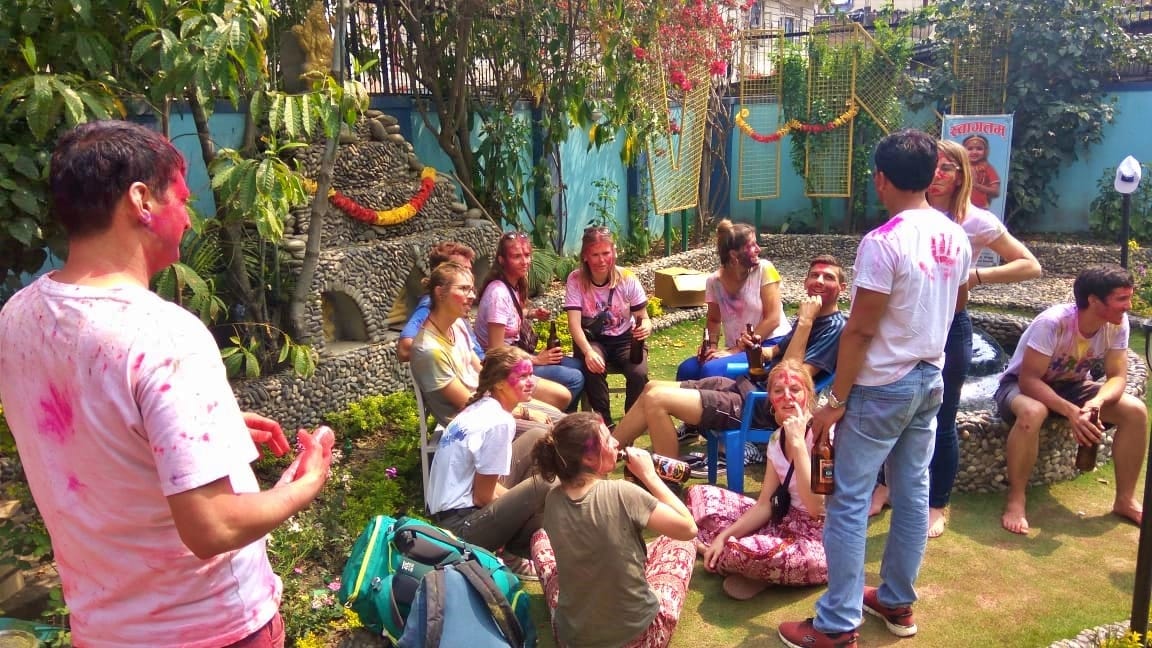 As per schedule, most of the volunteers gathered at VIN premises at 10:30 AM and some of the volunteers arrived late due to low mobility of vehicles. Volunteers from different projects and sites introduced themselves. Afterwards, they started to put colours to each other. It started with "Tika" and then continued with water, snacks and drinks. They put colours and showered water on each other. After having snacks and taking the group photo, volunteers and VIN staff headed towards Thamel.
The group gathered at Hotel Premium and celebrated Holi with Hotel staff. The hotel staff welcomed VIN group with colours, water and some drinks. Afterwards, the group was divided into two groups, one group moved to Basantapur Durbar Square and the other, Thamel. Volunteers thanked VIN family for the invitation.
One of the volunteers from Japan, Nakashima Kosuke postponed his flight just to attend the Holi festival. He said, "We celebrate Halloween with different customs and faces but this is the best festival so far I have seen. I enjoyed a lot. Everything was awesome. I love the crowd, openness of the people, friendship and the atmosphere. Multicultural people were in the same place to celebrate the festival. Whole Kathmandu was celebrating it and everyone is welcoming. I was also invited by different groups with colours, a smile and a warm hug. I had fun with known and unknown faces. Normally People don't include unknown people in the celebration, but this celebration of Holi festival includes everyone. I think this is the best part of Holi. Next year, Holi will be celebrated a week before and if possible I will come again to attend the HOLI festival."
-Diwakar Shrestha
Volunteer Coordinator
---