Environment Initiative
Program Fees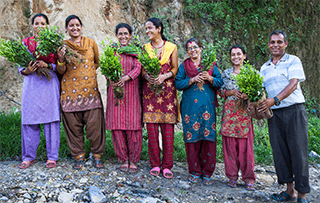 VIN seeks volunteers or interns to join environment initiative project and raise awareness of environmental issues in rural, underprivileged communities.  We need you not only to carry out creative campaigns, but also to perform vital research to help inform our approach in the future.
Nepal is rich in natural resources.  Its lands stretch from the flatlands of Terai, through the hillsides to the mountains of the Himalayas.  Its climate is supportive of a variety of crops.  There are great forestlands and there is a huge potential for hydropower.  Yet, due to lack of leadership, and waste management, careless industrialisation, only a few environment initiative act, lack of capital and a lack of skilled workers, Nepal is heading towards environmental crisis.  The air and water are polluted.  The soil faces erosion and the forestry is being cripplingly depleted.
VIN's overriding mission is the empowerment of marginalised communities, with a focus on women and children.  Since 2007 we have been working with Jitpurphedi Village Development Committee (VDC), implementing our integrated approach to community development, and are now initiating work with Okhaldhunga in the Everest region.  Our work is designed to be sustainable, making a long term difference to the quality of life in rural communities.  Development cannot be sustainable if the environment is not respected and nurtured.
VIN seeks volunteers or interns to work to raise awareness of environmental issues with rural communities.  You can chose how to carry out your environment initiative awareness campaign, you could use street drama or games, the more creative the better.  You will also perform research in the community, mapping and studying the environment, issuing reports and recommendations on topics assigned by VIN.
During your placement you will live in the community with a Nepali host family.  This will allow you to understand the culture that is the backdrop to Nepal's polluted and depleted condition and allow you to be immersed in the rich traditions of Nepali life.
Read more
Apply now