Environment and Conservation Program
Fact-Sheet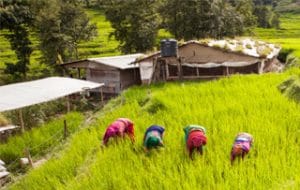 Collaborate with the Local Rural Community, Conduct Major Research, Promote Sustainable, Profitable Practices to Meet Environmental Challenges While Experiencing Nepal's Colorful Culture!
As a volunteer through Volunteers Initiative Nepal's challenging, yet rewarding Environment & Conservation projects you will work first-hand with the locals, on the field, conduct research, learn, and teach, while experience Nepali culture. You will bring lasting change to Nepal regardless of your skill level.
Why should I volunteer with VIN's Environment & Conservation Program?
Choose a Project and Click Apply Now to Get Started
Environment & Conservation Projects:
Improve Nepal's Water Resources by Conducting Water Research
Do you like the adventure of working with the challenges of the unexpected? Do you also possess the relevant experience in water and sanitation research? As a volunteer in VIN's Water Research project you will conduct major research on water resources and sanitation, while collaborating with and creating awareness in the local community. One day you might be at the water source taking samples, another day you might be in the lab analyzing samples, another day you could be in the office creating data analysis reports of your findings. No matter what, you be busy learning, doing, and having a lot of fun!
Preserve Nepal's Natural Beauty by Raising Awareness on Environmental Issues
Do you have experience in creating engaging campaigns to raise awareness in matters that concern us all? VIN is seeking environmentally conscious volunteers for its environment awareness volunteer projects. As a volunteer for the Environment Initiative Project you'll help raise much needed awareness of environmental issues in the rural, underprivileged communities of Nepal. In addition to executing vital campaigns you'll have the opportunity to conduct critical research to inform future initiatives.
Conduct Research on Nepal's Climate Change Challenges
Are you an experienced researcher with a focus on environmental issues looking for a challenge? VIN is seeking experienced volunteers for its Climate Change Research project. As a volunteer you will be gathering data while exploring Nepal's ecosystems. You will conduct research utilizing various tools in different locations throughout Nepal to assess climate change effects. During your time as a volunteer you will be involved in raising awareness and create reports of your findings.
Preserve Traditional Farming Techniques While Empowering Local Farmers
Are you interested in discovering the most traditional and ethnic farming techniques of indigenous people while promoting new more sustainable techniques? As an intern or volunteer in VIN's Agrofarm project you will work alongside Nepali farmers to not only learn but to teach local farmers. With our support you'll work with farmers in rural communities to empower them to incorporate new farming techniques while preserving their cultural heritage, instrumental to farming practices passed down generation to generation.
Promote Sustainable and Integrated Farming Practices Through Agroforestry
Are you looking to get practical real-world experience in land-use systems that are diverse, profitable, and sustainable for third-world countries such as Nepal? Do you possess knowledge and experience with agroforestry? As a volunteer or intern in VIN's Agroforestry project you'll collaborate with our partner organization Kaule-Ev to educate farmers to adopt more integrated and sustainable farming methods to reduce the negative impact of traditional methods. You will empower farmers by helping them renovate farmland and teaching basic English to them and their children.
Have questions? Click here to see our FAQ.
Stop dreaming of the adventure that awaits you!
More About VIN & Nepal
VIN's Environment  and Conservation Programs focus on promoting community awareness of crucial environmental issues and developing solutions by contributing to major research.  We believe that the well-being of the people can only ever reflect the well-being of the environment.  VIN are looking for skilled and unskilled volunteers and interns to join us on environmental volunteering program to bring about environmental change in Nepal.
VIN conducts VIN conducts Water Research, Environment Initiative, Climate Change Research, Agrofarm and AgroForestry projects under Environment and Conservation programs to provide in depth concept of environmental issue of Nepal and to develop analytical skills, critical thinking, and problem-solving skills of its volunteers and interns.
Nepal possess a phenomenal landscape, from the flatlands to the tallest mountains in the world.  With the geography and the climate for significant biodiversity and potential for hydro-power, the country is rich in natural resources.  However, while Nepal is largely dependent upon traditional and labor intensive agricultural practices, soil remains subject to erosion, forests are destroyed and landslides pervade.  The current yield from traditional agricultural practices is not enough to feed the growing population and while floods destroy villages and lives, the population compete for precious water resources.  Poor sanitation continues and each year thousands of children die from diarrhea related conditions.  Without intervention and positive leadership, Nepal's people remain ignorant of environmental issues. Nepalese government don't have enough budget to spend on environmental issues so it needs help of environmental volunteering programs of INGO/NGO.
VIN's overriding objective is the empowerment of marginalized communities.  Since 2007 we have been implementing our integrated development plan with Jitpurphedi Village Development Committee (VDC) and have begun implementation in Okhaldhunga in the Everest region.  Much of our work takes place at community level, however, VIN also performs research with partner organizations to understand national environmental issues and develop solutions.  While climate change, diminished water sources, deforestation and soil erosion continue our goals of empowerment will always be threatened.
VIN invites committed volunteers or interns to work on voluntary conservation work with us and our partners to conserve environmental beauty.  Help to educate and assist local communities, liaise with local authorities or investigate climate change.
Ready to begin your journey?
Apply now
Fees